다섯개의 화요일 / Five days of Tuesday
→ project Vanziha
- 반지하 마흔여섯 번째 프로젝트입니다. - 작가는 작업을 하고자 하는 '나'에 대해 생각을 하고 있다고 합니다. - 작가는 첫 미팅에서 경험과 연결된 CCTV 작업을 진행하고 싶다고 말하기도 했었습니다. - 작가는 이번 프로젝트에 대해 "전시가 맞지만, 전시라고 말을 꺼내기 거북한 가벼운 무게감으로 공간을 채우고 싶었습니다. 반지하는 베타공간이니까, 원래 관리자 분도 사용해본 적 있는 공간이고 누군가 필요한 사람에게 쓰게 해줘야겠다고 생각했던 곳이니까, 그 출발점의 감정이 남아있어서 공간의 어떤 분위기가 있다고 생각했습니다. 잠시 필요하니까 빌려 쓰는 방 안에 나랑 관련된 혹은 반지하랑 관련된 어떤 풍경을 담아야겠다.. 는 식의 출발점을 가지고 있습니다. "라고 말했습니다. - 작가는 이번 프로젝트에서 <심상치않은풍경> 과 <불구경>, <해가 뜬 풍경>, <옛날기억>, <밤> 라는 이름의 5가지 풍경을 준비한다고 하네요. - 작가는 달력을 살펴보니 이번 5월은 예쁘게 날짜가 떨어지는 달이라고 말하기도 했습니다. - 작가는 매주의 맨 앞인 일요일마다 풍경을 바꿔보는 작업을 진행한다고 하네요. - 작가는 첫 번째 풍경인 <심상치않은풍경>은 공장지대에 자리한 작업실에 시간을 보내며 마주했던 환경과 유토피아-디스토피아에 대한 생각이 뒤섞인 작업이라고 말했습니다. - 작가는 두 번째 풍경 <불구경>은 첫 번째 풍경을 바라보는 마음 같다고 고백하기도 했습니다. -작가는 "무언가 열심히 고민하고 생각도 하고 계속 움직이지만 결과로 나오는 작업을 보았을 때 느끼는 신남과 약간의 무기력함, 감정적인 불편함 등이 마치 '불구경하는 심보같더라'는 생각에서 선택하게 되었습니다. " 라고 말했습니다. - 관리자는 작가들이 작업을 바라보는 각각의 자세에 대해 생각해보기도 했습니다. - 작가는 나머지 풍경들은 좀 더 반지하에 어울리게 바뀔 수 있을 거라고 말했습니다. - 작가는 "마흔 명이 넘는 사람들이 공간을 스쳐 갔고, 그 흔적을 텀블러를 통해 보면서 재밌거나 신나거나 싫거나 거북하거나 했었습니다. 제가 지내는 동안은 좀 더 반지하에 익숙해져서 제가 아는 풍경을 익숙하게(?) 담을 수 있으면 좋겠어요."라고 말하기도 했습니다. - 이번 달 말일까지 진행되는 프로젝트입니다.
- this is Vanziha's 46th project.
- the artist mentioned that this is about the 'artist itself' who is trying to do the artwork.
- during the first meeting, the artist told me that he/she wants to start work related to personal experience by using surveillance camera.
- artist described this project as, "Yes I have to say this is an exhibition, yet, want to make it shallow enough to feel like, this might be is not an exhibition. Vanziha is basically beta space where manager also has used it before and now lending it to others who need. I can tell I feel some kind of different atmosphere rooting from this format of usage. I am also the one who is borrowing this place temporarily for my need, and I wanted to fill this space with the works which have a relationship with me and also Vanziha.
- Artist has the plan to install five different landscape in this space which are
.
-Looking at the calendar, the artist said that the month of May has five Sundays and the first date starts on Sunday and the last date ends on Saturday.
- So the artist is planning to change the installation every Sunday.
- Artist mentioned about the first installation is rooting to the thoughts about Utopia-Dystopia. Artist though about this concept at the studio, located in the middle of factory facing the sea.
- And the second installation might be about the feeling of viewing the first installation.
- "Working on something actively often ends up in feelings of excitement and lethargy. I feel like I am just staring at the things, the world, my surroundings, but avoiding a deep relationship with them.
- From this perspective, the manager thought about the stance of each artist relating to the world.
- Artist mentioned installation format is changeable.
- Also, the artist said, "More than 40 people went through this space, using this area as they expect. Watching those traces, it was exciting, frustrating, sometimes uncomfortable but also interesting. While I am using here, hope I can get used to it and display works which seems to belong here."
- This project runs until last day of this month.
46번째 프로젝트 _ 다섯 개의 화요일
5월 8 - 31일, 2016
*매주 화요일마다 전시가 바뀝니다.
오픈베타공간 반지하
http://vanziha.tumblr.com/tagged/46th
46th project _ Five days of Tuesday
8 - 31, May 2016
*exhibition changes every Tuesday.
openBetaSpace Vanziha,
South Korea
http://vanziha.tumblr.com/tagged/46th
HOPE

DSLR, digital photo frame, arduino
dimensions variable

In the work, a set of digital camera and two LED monitors are placed in the space. One is connected to the digital camera with afull exposed camera shutter speed and the other is on top of the pedestal with a noised screed. The viewers only observe the word 'Hope' on the noised screen through the eyes of camera connected to the other screen.
2016



Something

fluorescence ink drawing on paper, balloons, LED lights, bricks, styrofoam
dimensions variable

The work is displayed at a wall and lighten it up with a white led lamp, which makes fluorescence ink luminous. Balloons supporting floresence string Island are fixed with bricks and styrofoams. Attemp to making landscape of vulnerable, unstable 'something', materials are installed in space without fixing methods such as gluing or nailing. I selected materials which could support each other in terms of aesthetic and weight, and colored A4 paper with fluorescence ink and cut out a form of 'something'
2016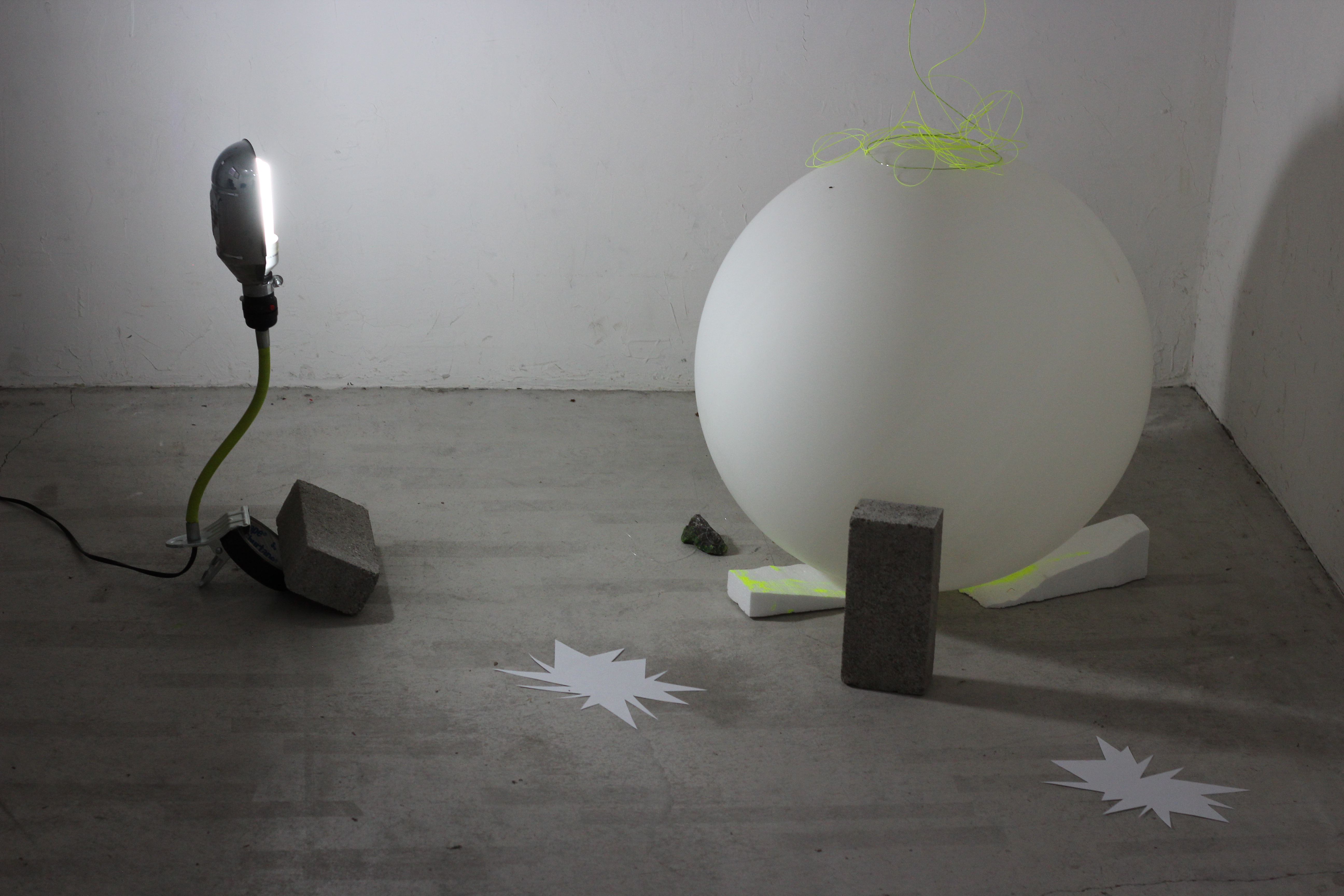 Merely looking on fire

LED lights torch drawing on transparent plane
dimensions variable

This work tries to capture a concept of famous saying "Fiddling while Rome burns". Living as an artist and working on art project sometimes bring up similar emotions within myself. Though the art language I use fully reflects the reality, yet it is not an actual action toward world. I feel my stance is similar to a person who is indifferently looking at the fire burning Rome. The installation uses the shadow of bricks and drawing of the fire to make a scene of burning city.
2016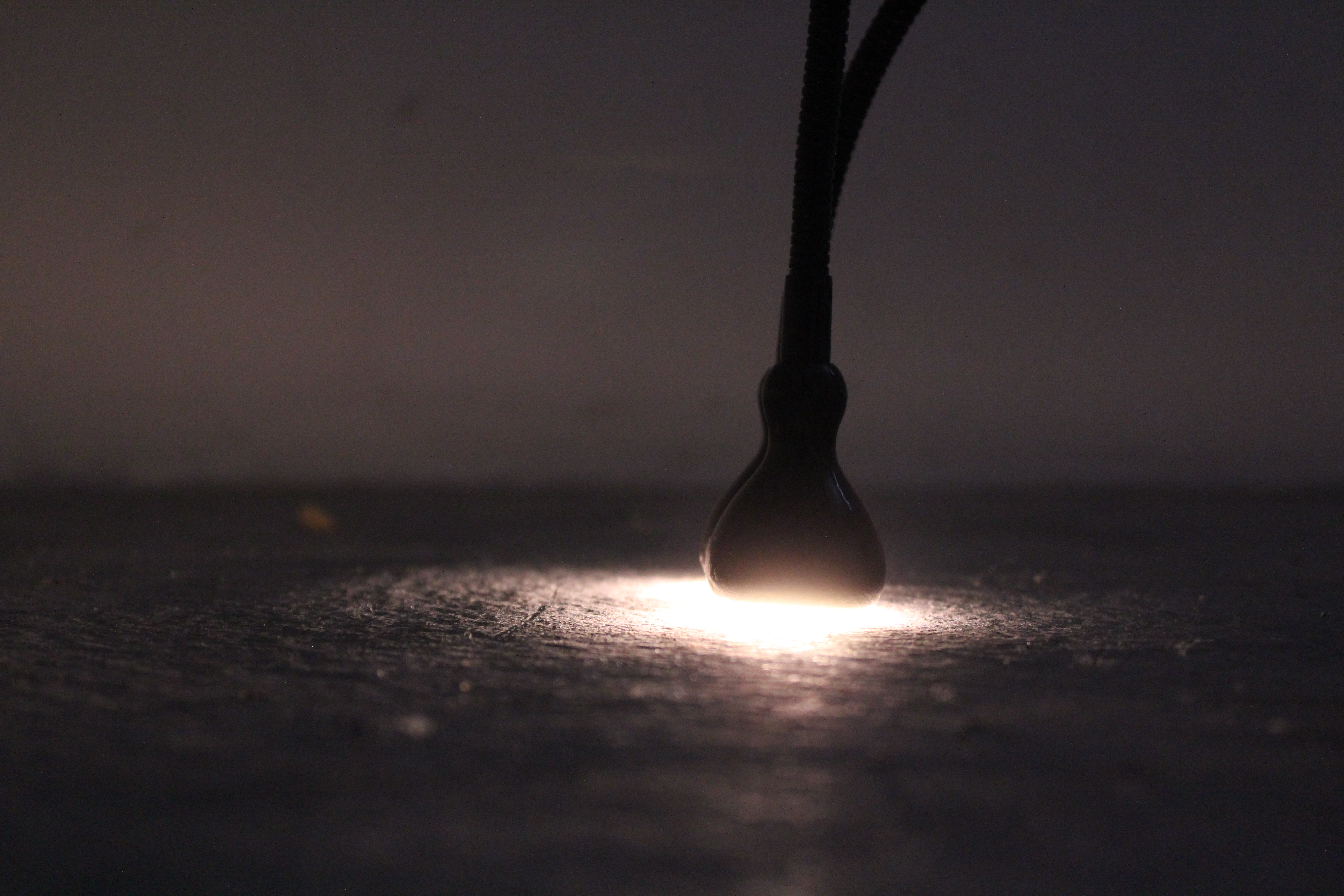 Night

LED lights toching the floor of gallery space
dimensions variable

As a last installation, I displayed two LED lights as metaphor of sun, and faced down to the floor to turn into night.
2016